Ken Lear
is an experienced sales professional, entrepreneur, and business leader.
A former Division I athlete, he brings the same competitiveness and drive for success to his business career as he did to the soccer field.
Success is a mindset, Lear believes.
It's about discipline and habits. It's about doing the work that others aren't willing to do, going the extra mile and never taking your foot off the gas. It's about attacking your goals with vigor and surrounding yourself with others who are on a mission for greatness. It's about setting the bar high to begin with — and then constantly raising it.
Lear is a servant leader who believes the best way to achieve success is to help others reach their goals. He is a business owner and mentor who puts relationships first, who coaches with encouragement, and who strives to always lead by example.
Ken Lear is a seasoned entrepreneur who is just as passionate today as the day he opened the doors to his company back in 2003. He currently owns and manages a growing firm headquartered in Farmington Hills, MI, that specializes in face-to-face sales and marketing through a relationship-based approach. The organization's client portfolio includes Fortune 100 companies across a variety of industries including telecommunications, energy, and mobile communications. Lear attributes the success of his company to a people-focused culture in which the professional growth of his employees is a top priority. An emphasis on fun, learning, recognition, and relationships has earned Lear's firm the award of "Best and Brightest Companies to Work For" for the last four consecutive years.
"Where there's a will there's a way."
Ken Lear proudly serves as a consultant to dozens of small businesses across the country, sharing his extensive expertise in leadership development and outsourced sales. Passionate about helping others build their companies, he works with professionals ranging from rookie managers to seasoned executives. He focuses on implementing simple processes, building meaningful relationships, and leading from the front. As a consultant, Lear will challenge your way of thinking and help you gain perspective on your business. He will not only give you actionable feedback but will hold you accountable to hitting your goals. Lear will ensure that you don't just get ahead of that game — but that you win the game.
"Thoughts equal feelings, feelings equal actions, and actions get you results."
Ken Lear is a supportive and encouraging coach who takes the time to develop real relationships with his mentees. He selectively spends his time with the internally-motivated, helping these individuals to identify their goals and put an action plan on paper. Lear believes in the importance of being emotionally attached to one's goals. "Thoughts equal feelings, feelings equal actions and actions get you results," is a mantra he shares often. A firm believer that success isn't built overnight, Lear teaches others that becoming a great business leader is the result of many small decisions that people make over time. Accordingly, his approach as a mentor is to focus on making progress week over week.
A website about Ken Lear would not be complete without mention of his family, his number one priority. Being a loving father to his sons, Brady and Mason, and a devoted husband to his wife, Sara, are the two most important jobs in his life. Ken and Sara maintain active lifestyles, surfing and working out together, and even completed a triathlon recently. Ken also enjoys a close relationship with his older brother, Jeff, who has been a role model to him both on and off the soccer field. The brothers, still just as competitive as when they were young, enjoy annual snowboarding trips to Park City and getting their families together.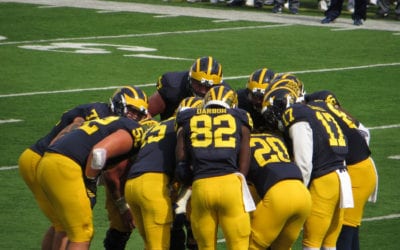 As a former athlete himself, Ken Lear has seen first hand that business and sports are two heads of the same competitive dragon. In Part 1, you read about Jim Harbaugh's ability to use his extensive knowledge of the game of football to make important decisions as well...